On April 13th, at the Superior showroom in Milan, an original capsule collection of carpets dedicated to the cities of New York and Tokyo will be presented, born from the partnership between the Superior tannery and the luxury brand Illulian.
The Superior tannery and the Illulian design brand have joined together to create an exclusive capsule collection of handmade rugs.The unique pieces creations of this collaboration will be presented to the public at the Milan Design Week: the long-awaited appointment with the Salone del Mobile and the Fuorisalone, from April 9th to April 14th 2019.
Saturday, April 13th, from 6.30pm to 9.00pm, the Superior's showroom in Via Quintino Sella 3 will open its doors to show the newest models created, born from a new combination. On one side there are the prime cut leathers worked by Superiorwith artisan skill and technical precision.On the other hand, there are Illulian silk yarns representing his supreme stylistic research and creative vocation in the field of design.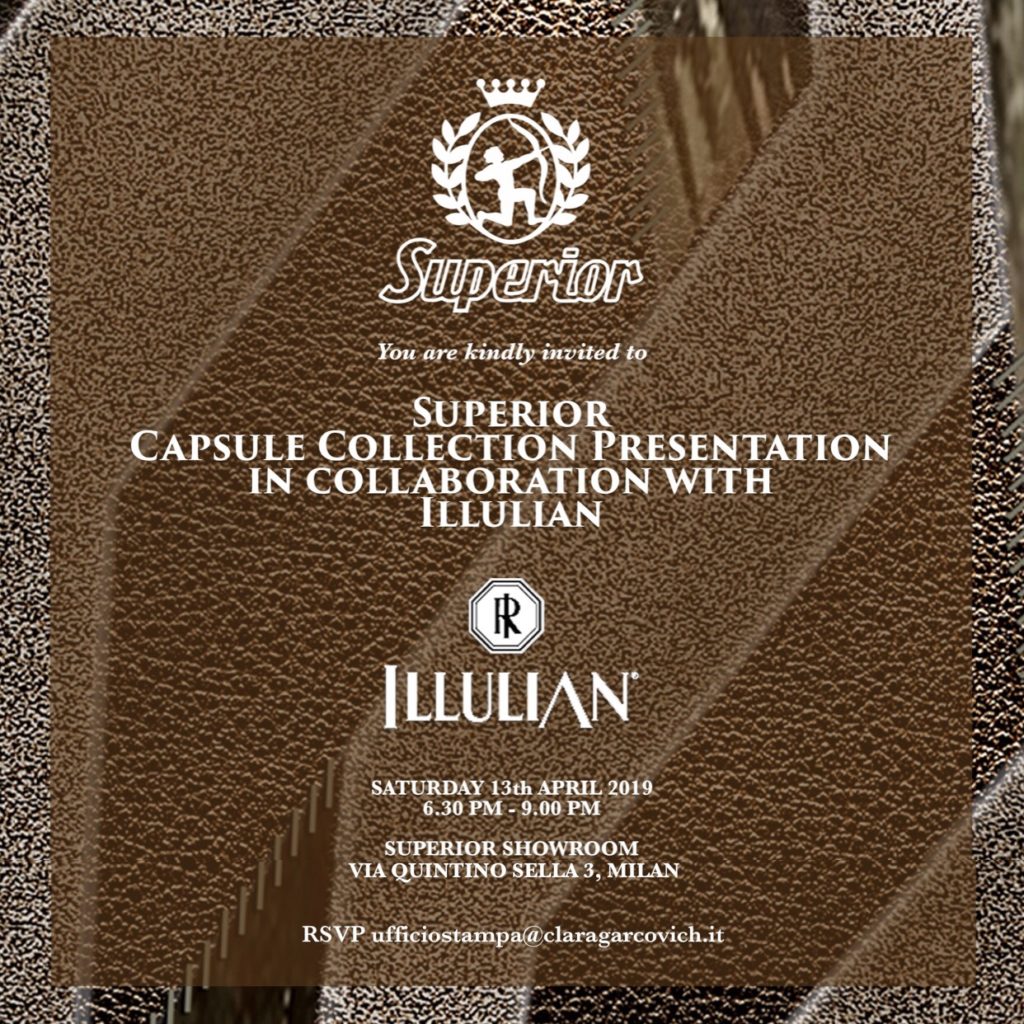 "We are extremely satisfied with this partnership that ties us to Superior Tannery, a company that is positioned with authority in the high fashion leather goods market "is just one of the comments of Bendis and Davis Ronchetti Illulian, who defined the new partnership as "a winning synergy between inventiveness, high quality and luxury".
The AquiliAlbergh Architects' firm, already involved in the construction of the Milan showroom in Superior, has designed the models that will be on display. Main subjects of the exclusive carpets are the two cities where contemporary architecture is king: New York and Tokyo. With "motion" as the basic concept of the models. If in the New York model this is logical and analytical, in Tokyo it becomes fragmented and multidirectional. Thanks to studies on optical art, the result is a mixture of very decorative geometric patterns, enhanced by the lightness of silk and the softness of the leather.
The evocative images expressed by the Tokyo and New York models, this way merges with the path of Superior and Illulian towards the contemporaneity, the experimentation and the unexpected result. Stefano Caponi, the CEO of Superior, said he is proud of this collaboration, he considers it a creative upgrade and a significant step forward for the company."A debut at the Salone del Mobile – he added –  we could not choose a better partner, a guarantee of success and future collaborations."
In addition to the April 13th appointment at the Superior showroom, the Tokyo and New York models will also be visible at the Illulian showroom in Via Manzoni 41 for the entire duration of the Design Week.