In 2017 Conceria Superior S.p.A., started a medium/long term project aimed at improving eco-sustainability awareness through a significant use of resources, training courses and implementation of "Best Practice" policy that has been fully embraced by its entire workforce.
Some of the key elements of this project are: compliance with EU regulations, compliance with our customers' requirements, ethical and environmental quality certifications; every step of the production chain is involved: from the evaluation of raw material suppliers to product's end-of-life management.
Our vision is based on different sustainability concepts, as shown below: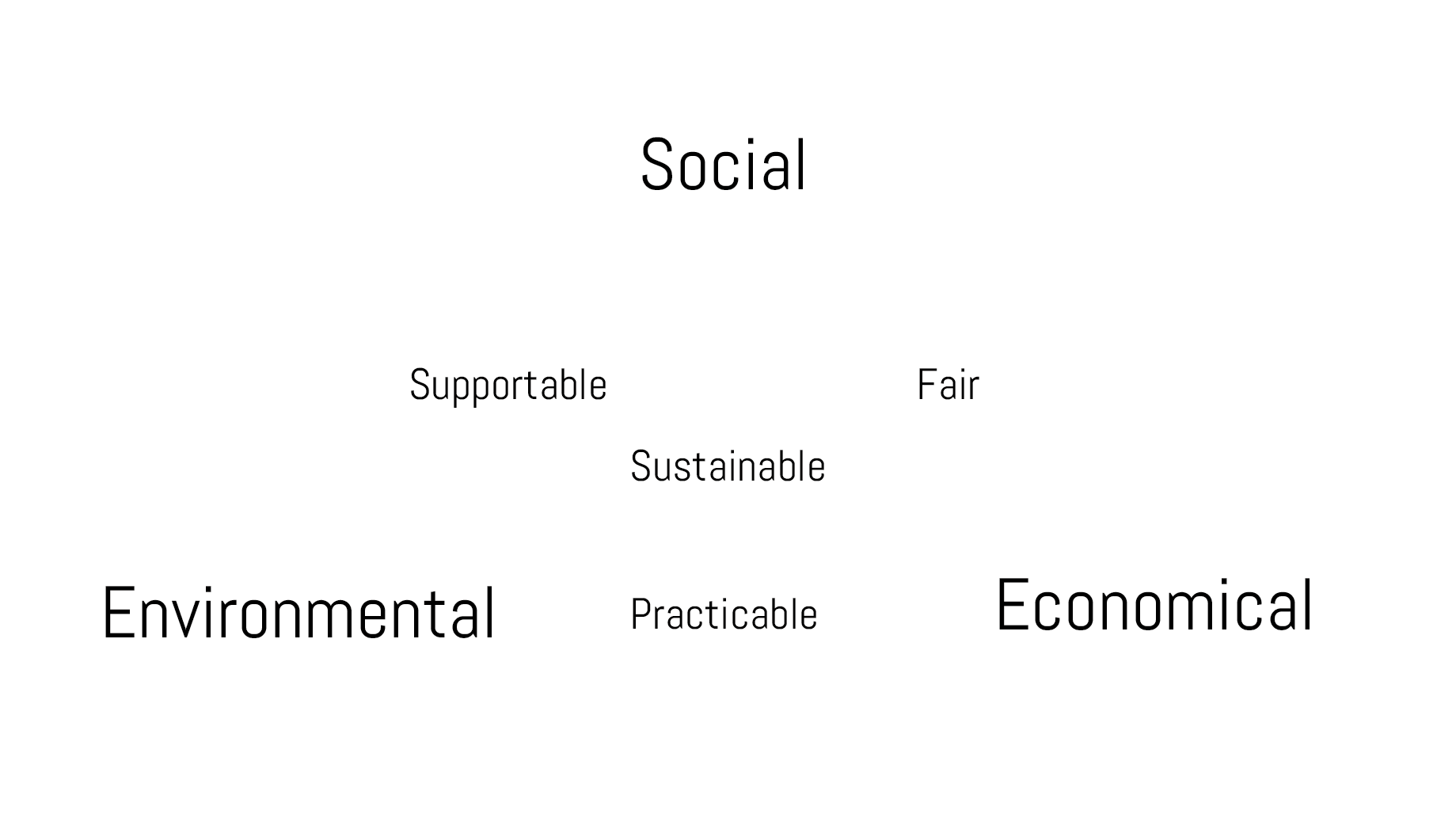 By committing to these few initiatives, we aim at offering a more sustainable, habitable and equal environment to our future generations.
Superior S.p.a
Economical Sustainability
The company increased its workforce from 40 employees in 2008 to 120 in 2017 creating occupation through a careful economical management, marketing awareness and customer care.
Conceria Superior S.p.A. is constantly monitoring the compliance of its supply (raw skins and chemicals) to EU standards (REACh regulation and biocides) and customers' requirements.
Social Sustainability
The company has been keeping active in the leather district of Santa Croce with initiatives oriented to not just its employees' welfare, but to the whole community's as well.
In the last few years Conceria Superior S.p.A has been taking part to the development of the territory (reclamation of the garden on the Arno river bank) and to the diffusion of art and artistic culture (performance by Loris Cecchini "Sistemi di Visione" in collaboration with Galleria Continua and the Santa Croce municipality.
Environmental Sustainability
Our facilities are powered by 100% renewable sources.
We constantly analyse our consumption levels on our provider's online platform in order to optimize the production cycle.
We are implementing a system that monitors our units singularly, as this helps us to identify potential abnormal energy consumption (the project will be fulfilled in early 2018).
90% LED lighting (the project will be fulfilled in 2018).
Hot water management system with:
– Complete steam recycle.
– Temperature conservation tank and use of double boiler, in order to avoid gas consumption peaks.
Regular and demineralized water stocking system, aimed at avoiding any consumption peaks.
Installation of online-monitoring system divided into distribution lines that will show potential abnormal water consumption (will be fulfilled in early 2018).
Emission management:
– Compliance with legal regulation at 90% of total limit.
– Introduction of low-environmental impact cycles.
Discharge management:
– Compliance with legal regulation at 90% of total limit.
– Introduction of low-environmental impact cycles.
Noise management:
– Substantial investments made it possible to protect the surrounding area from noise pollution.
Waste management:
– Implementation of waste recycling. The separated materials are quickly collected and removed from all units.
Automatic management of the re-tan unit; the production cycle is digitalized and the drums can operate automatically (will be fulfilled in early 2018).
Feasibility study on shortening of chemicals absorption time and temperature reduction during the re-tanning stage, in collaboration with La Normale University in Pisa (will be fulfilled in early 2018).
Feasibility study on new technologies that aim at reducing the use of chemicals in the finishing stage while still achieving a certain physical performance on leather, in collaboration with La Normale University in Pisa.
In depth FootPrint and LCA analysis through the whole productive cycle in collaboration with professional consultants (will be fulfilled in mid-2018).
Quality, Environment, Safety and Ethic Statement
Superior S.p.A.'s  Management believes:
In fullfilling the expectations
In increasing the satisfaction
of the parts involved, meaning its customers, its employees, its owners, its suppliers and the community, as it is the best way to consolidate and implement the company.
This research goes through a rationalization of the internal organization on both a productive and a functional side that naturally develops through an Integrated Management System (SGI) of Quality-Environment-Safety-Ethic.
Superior S.p.A.'s  Management is well aware of the importance of this research and:
Is committed to evaluating all of the requests of the resources that will become necessary for its effective and efficient development
Is meaning to adopt the risk/opportunity analysis method (risk-based thinking) to identify the necessary actions aimed at fulfilling the best results and preventing any negative effects
Aims at ensuring that an Integrated Management System (SGI) (complying with the guidelines of this document and the rules of our Certifications) will be established, adopted and kept operative for Quality-Environment-Safety-Ethic
Demands to be informed on the ongoing system in order to allow its review and improvement.
Statements
Superior S.p.A.'s  Management will:
reduce environmental impact connected to its processes, also through:

sustainably using natural resources, in terms of energy efficiency and employment of raw materials, also through recycle and reuse
preventing air, water, sole pollution, including the reduction of waste and production scraps
utilizing non dangerous products with lower environmental impact
developing strategies, techniques and precautions aimed at achieving articles and processes with lower environmental impact
environmentally and socially- based purchasing criteria
involving its workforce with environmental aspects that are connected to our business
local activities in cooperation with the interested parties (e.g. local communities, public authority), aiming at minimizing the impact of production activities in a certain territory and at safeguarding or restoring natural habitats

not exploit, nor support child labour
not exploit compulsory labour as workforce or source of profit, nor support the use of it in any form
respect the Workers' Statute, the category CCNL (National Collective Work Contract) and the Italian Constitution
respect the right for workers to establish and take part to trade unions and carry on trade unions' activities in the workplace (e.g. meetings, assembles)
promote equal opportunities for all employees, assuring that:

no discriminatory behaviour will occur during hiring process
equal training opportunity will be offered to the workers, according to their function
female workers with same functions and role will receive the same salary, allowances and benefits as male workers
female workers will not be discriminated during hiring process or work service in matter of their right of maternity
no offensive behaviour that harms personal dignity will be tolerated, be it physical or psychological
any special needs pointed out by the workers (e.g. religion related matters) will be evaluated and granted so far as they are compatible with service requirements

commit to ensure the safety and the welfare in the workplace
respect the laws and the regulations included in the category CCNL in terms of working hours and retribution
commit to operate in accordance to principles such as loyalty, honesty and transparency to all of the parties involved, also through the use and circulation of its Ethical and Conduct Code
Quality-Environment-Safety-Ethic Policy Philosophy
Every single individual is a key-player in the activity of the company, as the Business is a process of the whole community itself.
This vision grants a certain flexibility to the individual and allows them not to lose their identity, but instead they can define specific goals to achieve on their own terms and responsibility. Also, a generalization of the supplier/customer relationship, on all levels, allows the return information, requirements and calculations to be managed more correctly.
The Management has therefore established this policy and will commit to it, so that it is:
appropriate to goals and context of the organization and supports its key-points
represent a landmark in setting systemic targets
support the protection of the environment, including averting pollution
be a landmark in setting the specific goals inside the organization
support the commitment to satisfy the applicable requirements
be a common reference framework for the uninterrupted improvement of SGI and environmental performance
The final goal is to ease the inter- functional process flow, by cutting the obstacles created by its division into processes.
The same portrait in the organization's structure is meant to graphically express the cooperation spirit and the relation between the many processes and activities but also maintaining specific responsibilities and authorities.
Quality and Policy Instruments
The targets are designed to create a tactical alert that will be useful to motivate and define the criteria for the implementation of Quality-Environment-Safety-Ethic policy in its indicators, used by the Management for periodic checks.
The said targets are examined to their fulfilment, updated and defined through the Management's examination.